Our New Collection
Get to know Ophelia inside & out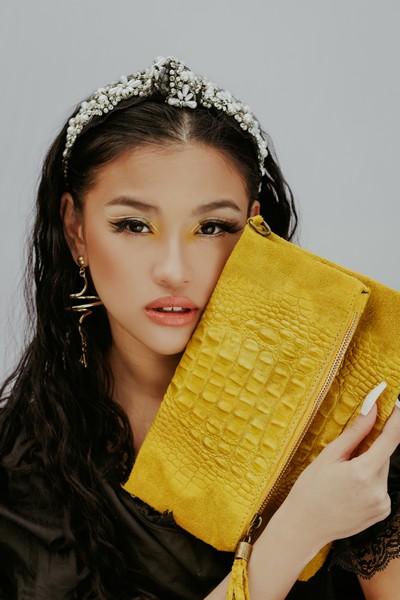 A last hurrah!
As our final real leather bag, we wanted to create something worthy of this grand finale. After the success of the Thais Vegan Croc Mini, we decided to expand on the detailing by using it again in a different shaped bag to show the versatility of the design, and so, we reimagined this delicate faux snake print and continued the theme in the Ophelia. Made from a blend of microsuede and leather, the new collection delights all of the senses. The microsuede merges into the leather so seamlessly, almost like the past meeting the future – which is quite apt for the current climate as we ease out of lockdown. Speaking of the future, the Ophelia collection launched at the same time as we joined Wolf & Badger – our very first stockists. W&B provides an online presence and storefronts in London and New York, offering a global marketplace for independent brands like Amschela to reach new audiences and enter the international marketplace. We can't wait for what's to come!
Life Recoloured
SAHARA SUN | POLO BLUE |RODEO DUST | PEARL BLUSH | GRAVEL BLACK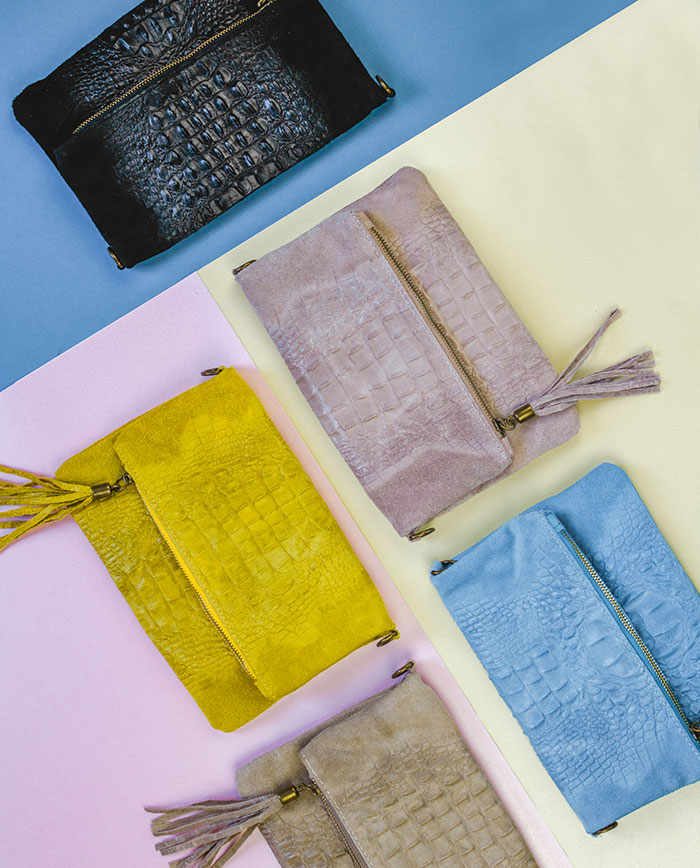 The Ophelia is available in a spectrum of playful colours, including pastel hues for Spring and Summer, as well as black and neutral staples. The colours were selected with one strong motivation: to inspire joy and rejuvenation.
The Clutch Reinvented
The clutch bag has formerly been a bag that you
want
, but now we've made it a bag that you also
need
. We've kept it indisputably modern and artistic, but we've updated it so that it can be worn both in the daytime and the evening. Why? Because with our bags becoming lighter – as all that we need is our phones, keys, and who can forget the coveted lip gloss – the clutch has become an essential item of the modern woman's wardrobe. In response to this, the bag features a detachable strap to effortlessly take you from day into night. Delicately shaped and intrinsically feminine, the Ophelia is an accessory to your rebirth and an agent to your rise.
'The clutch bag is often so underrated but its ability to be fluid is what makes it mesmerising. The Ophelia is subtle yet fierce, and definitely represents the Amschela woman.

'
Keri Andriana
ABOUT THE SHOOT
The magic happens behind the scenes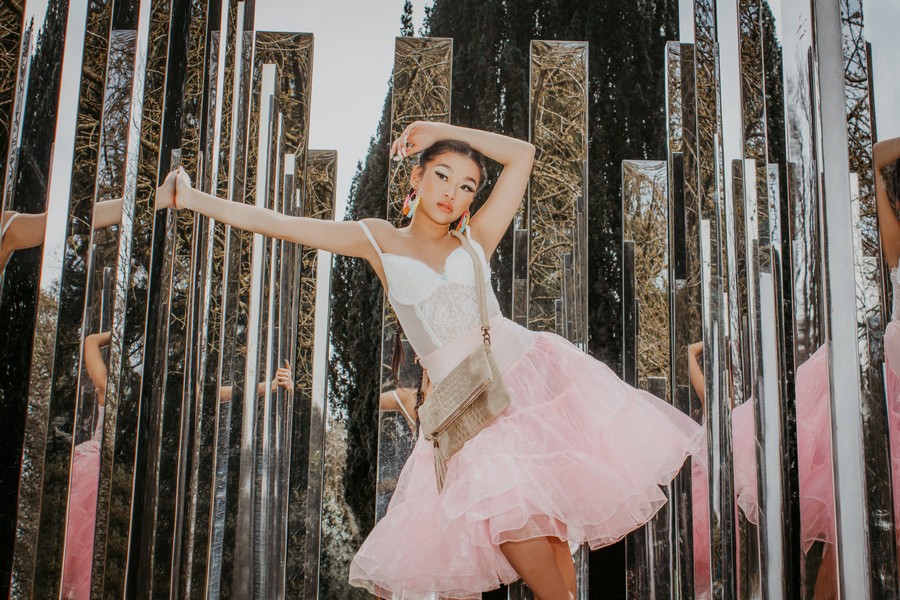 Prior to the shoot, we imagined a new world, whereby we needed to deconstruct the dystopian world that we've been living in for over a year and begin to reconstruct a utopia. From this world, Ophelia would rise from the ashes. How then, were we to translate this dream-like narrative into a real editorial shoot?
To begin with, we found our location on Bristol soil: the University of Bristol's Royal Fort Gardens. The garden's harmony of nature with futuristic sculptures set the scene of utopia from dystopia perfectly. By harnessing a maze of mirror columns emerging from the earth and a kaleidoscope-like art installation placed on the university grounds in 2020, we could channel light, reflection, and colour as mediums of our message.
Next, we needed a protagonist. Who better to select as the model than our newest and youngest brand ambassador, Xyzelle? As an up-and-coming R&B singer and business owner, her youth and talent are a source of inspiration as we look towards a bright future. In addition, Xyzelle hails from our home town of Bristol and is managed by leading Bristol Music Agency Whole9Bars.
Styling was another crucial factor, as it needed to encompass the past, present, and future in an eclectic vision. Bristol-based vintage clothing brand, Bees Knees Apparel, brought it to life through sustainable fashion. We went big and bold with looks that featured oversized proportions, lavishly overstated ruffles, retro prints, and eccentric colours. The result: images overflowing with exuberance and triumph.

Editorial Photographer: Alexandra Maceachren
Model & Brand Ambassador: Xyzelle (UK RnB Alternative Singer)
Videographer: Unity ThreeSixNine
Assistants: Hortense Renard, Liv Houlihan & Claudia Dupé
Editorial Team: Keri Andriana & Laura Mallinson
MUA: Sealviaglows
Clothing: Bees Knees Apparel
Why We Need Ophelia
& some final words from our CEO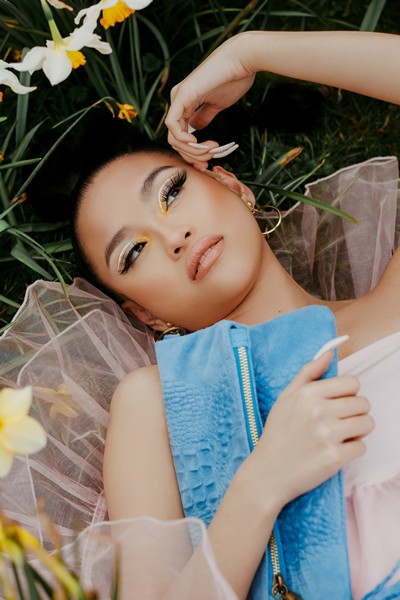 As the world begins to repair itself from a pandemic and society shifts back into normality, we wanted to offer a symbol of hope, resurgence, and resilience to Amschela women breaking through into the new world. The Ophelia is an embodiment of these qualities and is the epitome of Spring/Summer, allowing you to externalise your colours within.
'Everyone needs someone who you can trust and Ophelia is just that.

'
Keri Andriana
Explore the SS21 collection lookbook here: